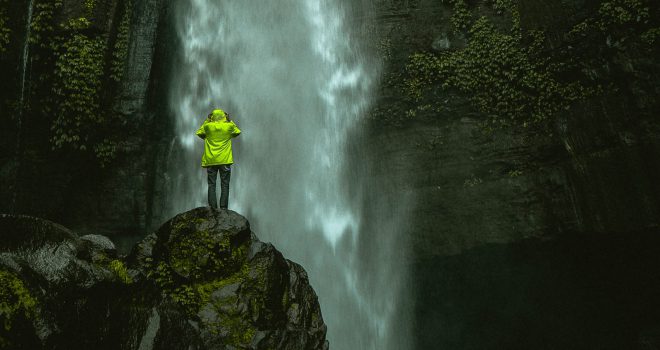 April 27, 2018
17: 4 Ways we are Called to Worship
Read Psalm 95
Psalm 95 is a song of worship. It is a song that invites us into worship. It calls us to look and gaze at the wonder of an incredible God. But what exactly is it that is so wonderful about God?
Obviously, I will not exhaust the wonders of God in the next 800 words. But we do get a glimpse in these few verses which are written with such joy and exuberance.
1. God is to be worship for He is the Creator.
Too often, we forget the big picture. We think that we are at the center of the universe. We may give lip service to God being the Creator, but we don't give Him the worship He is due for creating every molecule and atom in the universe. Take one brief look at a flower, a blade of grass, your pinky or a river that teems with aquatic life and you will see how unbelievably complex and precise God has been in creating all things.
2. According to Psalm 95 our worship should include our thanksgiving.
Just think about the life he has given you, for the relationships he has blessed you with, for the encouragement God has given you when you felt defeated, how God has drawn you back to Himself when you drifted away. These and a thousand other gifts have been showered upon you over the years by a loving and gracious God. A God who created you, who knows everything about you and still loves you. Be thankful for a God who did not leave you in your own rebellion but gave you His Son Jesus, to forgive and reconcile you.
3. God is to be worshiped for carefully watching over us and leading us through life.
The Bible often describes us as sheep. Now, sheep are wandering, needy animals, who depend on their shepherd. We are wandering, needy people who need our Great Shepherd. The Lord fulfills this role as Shepherd by taking care of you and giving you everything you need. There is no one nor anything in this world that can take care of you like God can. This is because you were created to be dependant on God and not on anyone else.
We often look around for other things to take care of us and to satisfy us. And sometimes we begin to lose focus on the fact that only God can satisfy us. But, "the Lord is the great God, and a great King above all gods," says Psalm 95: 3. So, any gods that we may create on our own or are enticed to follow are mere fantasy, they are not real, they have no power, they are completely useless.(If you want a great description of false gods, go and read Isaiah 44)
4. Finally, God is to be worshiped as the Rock of our salvation. If you think about the geography of where this Psalm was written and its context then you will understand a little better about God being your "rock". The geography of Israel was very rocky, there were caves and crevices that could be used to hide in when running from an enemy. Hiding in or behind a rock could literally save your life when fighting in a battle.
The Psalmist uses this imagery to remind the reader that God is not only protecting but He is also saving. When you put your hope and faith in God, who is stronger and more powerful than anything else in all creation, then you are safe.
The paradox is that we are in danger because we have sinned against this Holy God and we deserve to face His wrath. But, if we are in danger of God's wrath, then how does God save us? God saves us by sending His Son Jesus to bear the wrath for us. That is why Jesus is called our Rock. Jesus saves us from the wrath of God, whom we had made our enemy. When we see and understand this truth then it causes us to "make a make a joyful noise."
Your response to the saving grace of God through Jesus Christ is worship.
Worship that comes from your heart and is expressed through every fiber of your being. Worship with shouts of joy, worship with thanksgiving, worship with joyful noises, worship with singing, worship that lifts up the Lord as King and Creator and Savior.
"O come, let us sing to the Lord; let us make a joyful noise to the rock of our salvation!" You can do this because this gospel of grace is true. This gospel of grace has turned you from enemies of God to his sheep that He cares for with the utmost compassion.
This is the gospel that changes everything.