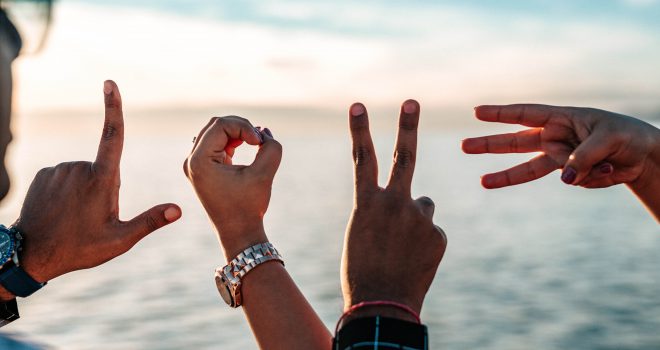 May 10, 2018
19: Two Things You have to Do Today
"Wait a minute, don't tell me what I HAVE to do today!"
I know, but Biblically, Jesus challenges us to do two main things today and every day. They come from the passage in Matthew 22 where Jesus was asked by some teachers of the Law what the greatest commandment was. Here it is:
35 And one of them, a lawyer, asked him a question to test him. 36 "Teacher, which is the great commandment in the Law?" 37 And he said to him, "You shall love the Lord your God with all your heart and with all your soul and with all your mind. 38 This is the great and first commandment. 39 And a second is like it: You shall love your neighbor as yourself. 40 On these two commandments depend all the Law and the Prophets."
Jesus makes it simple for us: Love God and love others. If we just do those two things today then we will be in God's will and He will be glorified.
Why do I have to Love God?
As I like to say, before we do what the Bible tells us, it's important to know WHY it tells us to do things. So, why is it important that we love God and love others today?
The answer to this one is simple: It's why we were created.
God created us in His image. Genesis 1 tells us that we were created in the image of God. Two things to note are these. One, God created man. Man did not create God. God is above man in every respect. Man is to worship God, the giver and sustainer of life. Of course, we are to love the Lord our God with all our heart, soul and mind. He is the very reason for our existence. Secondly, God created man in His image. God created us in such a way that we can relate to Him, that we can know Him and give Him our worship.
In Acts 17, the apostle Paul preaches a sermon in Athens, Greece and he says,
24 The God who made the world and everything in it, being Lord of heaven and earth, does not live in temples made by man, 25 nor is he served by human hands, as though he needed anything since he himself gives to all mankind life and breath and everything. 26 And he made from one man every nation of mankind to live on all the face of the earth, having determined allotted periods and the boundaries of their dwelling place, 27 that they should seek God, and perhaps feel their way toward him and find him. Yet he is actually not far from each one of us, 28 for
"'In him we live and move and have our being';
We have breath in our lungs because God allows us to, therefore, we worship Him.
2. Why do I have to Love my Neighbor?
"Ok, so I get the why behind loving God, especially since I can't exist without Him, but what about loving my neighbor? Why do I have to do that?"
First, we go back to Genesis 1, God created man in His image. We all bear the image of God. We are all loved by God. God created us for the purpose of loving Him and worshiping Him, therefore we are to love our fellow image bearers.
God has poured out his love to us, therefore we are to love Him back. And since the love of God fills us up to overflowing, we are to allow that love to flow into the lives of those around us.
Today, you have the chance to do some amazing things, two to be exact. Loving God with all your heart, soul and mind will be an expression of who you were created to be. In worshiping the One True God, you are living out your purpose in life. When we live out our truest purpose in life then we will be living the most satisfying, abundant and meaningful life we could ever imagine.
Anybody who knows me, knows that I'm a huge John Piper fan. And John Piper's life quote is this:
"God is most glorified in us, when we are most satisfied in Him."
Our life is not about glorifying ourselves, it's about glorifying God. And when we do, then we get the benefit of a truly satisfied life. Most people in this world are miserable. And they are miserable because they have centered their life on satisfying themselves. But we, as believers in Christ, do not have to be miserable, we can be joyful and happy beyond our wildest dreams because we will find our satisfaction in God.
The other amazing thing you get to do today is to love others around you. Again, most people are miserable. So, think about the impact you can have on their life! You can bring them joy when they are sad, encouragement when they feel discouraged, comfort when they are in pain, hope when they have nothing to put their hope in. Loving others is not that hard, especially when you meditate on the love of God that has been poured out on you through Jesus.
Remember, you were once alienated and enemies of God, but while you were still sinners Christ died for you. Christ has brought you back from death to life, he has put a new Spirit in you, he has given you a new life to live. Since God has done all these things for you and more, why would you not want to love others in the same way?
As the Home Depot slogan goes… "Let's do this". Let's love God with all our heart, soul, strength and mind and let's love others. There's plenty of love to go around and you have nothing to lose.
Because you know that the gospel changes everything!