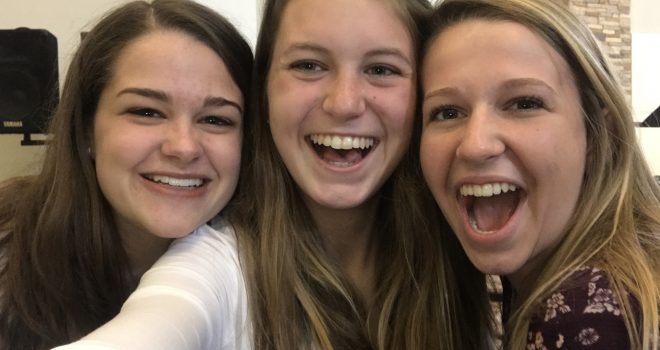 May 24, 2018
20: You are a Blessing
You are a Blessing to Others
When we read the Bible we need to see and understand that God has a redemptive plan from beginning to end. From Genesis 1 to Revelation 22 God's plan is to create and redeem a people for Himself. A people who will worship and glorify Him for who He is, God Almighty, creator of heaven and earth.
Hey Friends, don't forget that I send out a weekly email that has tons of free resources you don't want to miss.
Sign up here: WEEKLY NEWSLETTER
And, I also have another website called: www.ministryleadershipacademy.com where you can get the online course Gospel-Centered Bible Study. Use the coupon code: PODCAST and get 10% off all courses.
The Bible is one continuous story, it's not just a compilation of books and letters and biographies. There is a cohesive structure, there is a common thread that starts in Genesis 1 and goes all the way through Revelation 22. The common thread is that God is sending a Redeemer, who ends up being Jesus Christ, to save his people from their sins, to make them holy in His sight, bringing them into His family and blessing them for eternity and all for His own glory.
KEY THEME
A key theme of this thread of redemption is that God will use His people to bless the nations. This is one of the promises the Lord gives to Abraham in Genesis. I've been studying the book of Genesis with some men from my church for the last few months. As we approach the end of Genesis we see the story of Joseph being sold off into slavery in Egypt. Through various circumstances and extremely difficult trials, Joseph rises to power and becomes the second most powerful person in Egypt, second to only Pharoh himself.
Joseph's position allows him to strategically store up an abundance of grain during seven years of abundance. This allows Egypt to survive the next seven years of famine, as well as saving the nations around them, including Jacob and his family, the descendants of Abraham. When it looked as though the promise of God to Abraham and his posterity would be broken by a famine, God introduces Joseph as His tool to fulfill His promise and save the people of Israel.
THE PROMISE
So the promise to Abraham that God would bless the nations through him is continuing to be fulfilled. The nation of Egypt is blessed because of what God did through Joseph. This theme continues throughout the Old Testament and into the New Testament as the nations come to believe in Jesus as the Messiah and Savior. The Roman Empire was blessed because of the actions of the New Testament church, as believers lived out their faith to love people and create communities that cared for people.
We see this blessing to the nations continue throughout church history, unfortunately, I don't have time to go into all the details right now.
What I want us to see today is that we, as Christians, are being used by God to bless the nations, our communities, and our families. I want you to understand that today, God is blessing others because of your presence in their lives.
Let's start with our own families. God is blessing your family members because you, as a believer are loving them well, teaching them the truths of God in His Word, discipling them, equipping them, pointing them towards Christ. As you live out the gospel in your home, loving and forgiving others as Christ has loved and forgiven you, your family is blessed. They are experiencing the gospel in real life and will be transformed by it.
How about your workplace? Your employer and company is blessed by you because you are a believer living out your faith in that space. Christ has given you a strong work ethic, he has molded your character to be full of honesty and integrity, you work well with other people. Having someone like that working in a company is invaluable and a huge blessing to that company.
How about your community? Where you live and shop and interact with your neighbors, they are all being blessed because of you and your faith and hope in Christ. Your selfless giving, sacrificial living, the way you treat others and help your community become a thriving place to live is a blessing from God.
How about the world beyond where you live? Your influence in the lives of others blesses those places that they go to. For instance, my daughter is fully devoted to Christ, she has now headed off to college where she is influencing the girls on the hall of her dorm, she has gotten involved in church and is ministering to teenagers through Young Life.
Maybe you were a Sunday School teacher at your church or you discipled someone who has moved away to another city and now they are blessing those people they live with. Maybe they have gone into the ministry and are influencing hundreds of other people, maybe they have become missionaries and now are a blessing to the nation they serve.
USE YOUR INFLUENCE
Do you see the influence you have as a follower of Jesus? You have an influence wherever you go and way beyond. This is the plan that God has to dominate the world. Remember the great commission in Matthew 28, "Go and make disciples of all nations." As you live out the gospel every day, you are fulfilling this great commission.
I want to encourage you to take advantage of the influence you have, the blessing that you can be to your family, to your co-workers, to your neighbors, to your community, and to the world. This whole following Jesus thing is important, it is not just life-giving to you but it is life-changing to those around you. Don't underestimate the influence you have over other people. Use that influence to lead people to Jesus, use that influence to explain the gospel of grace to people who are willing to listen. Bless others with the gospel, because we all know, it's the gospel that changes everything!