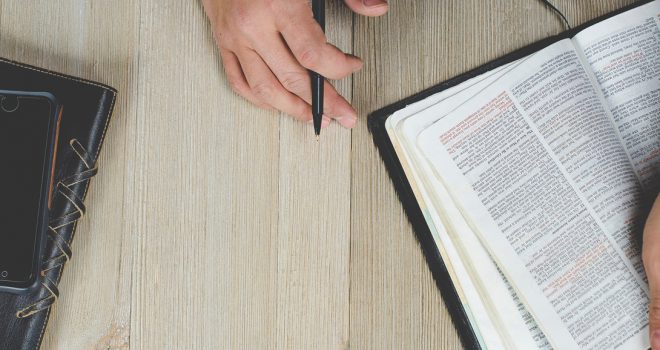 December 19, 2017
06: Three Ways to Help You Read Your Bible Everyday
You will often hear me refer to my "Friday Morning Men's Bible Study." We meet every Friday all year long at a local Panera coffee shop at 6:30 am. You are welcome to join us if you are ever in Midlothian, VA!
We've been meeting for over 8 years now and spun off a few other Bible studies as we have grown beyond the two tables we push together in the back. I can honestly tell you that I absolutely love every Friday morning. It is always a rich and encouraging time to get into God's Word and learn how the gospel impacts our daily lives. There is something special about studying the Bible in a small group. Getting to hear different perspectives from people who are all at different stages and professions in life. I highly recommend it.
Anyway, this morning as we were studying through 1 John we discussed "abiding" in Christ. Now, this word "abide" is used 16 times in this one little letter. The core meaning of abide is: an inward, enduring, personal, communion. I love this definition because it gives us a good description of a word we don't often use.
The question I posed to the group was simply, "What does abiding in Christ look like to you?" The first guy opened up and said that abiding for him meant being in God's Word. This led us to a lengthy discussion of our own personal discipline and habits of daily Bible reading. I was so excited. I believe that the daily intake of the Scriptures will have a profound effect on our lives, not just today but every day and will have a cumulative effect for the future.
As each man shared their experience and routine, one thing stuck out to me. Each man had a PLAN. They all had a plan that led them to consistency in this discipline. While there are myriads of plans and ways to have a devotion or quiet time, I want to share just three keys to a successful plan for reading your Bibles regularly.
1. Have a Consistent Time and Place to Read your Bible
Each man shared that they read their Bibles in the morning. What a great way to start your day! One guy said that when he made the personal decision to get into the Bible daily, he knew it would mean getting up earlier. When you have kids, the mornings can get pretty hectic. His goal was to get up before anyone else in order to have uninterrupted time with the Scriptures.
Another guy said that he and his wife read their Bibles at the breakfast table.  Hey, you are going to eat breakfast, so why not feed your soul as well? It was part of their daily routine and therefore helped them be consistent.
These men also said that they tried to end their day in God's Word as well. In bed, right before they went to sleep they would read a passage of Scripture. What a great habit! Let God have the last word of the day. Let your mind rest on the peace and wisdom of the Scriptures as you fall asleep.
2. Know what Bible Passage you are Going to Read
Part of the plan for these men was to have a guide for reading their Bibles. One guy pulled out his "read through the Bible" in a year card. It was just a simple card he kept folded up in his Bible. It had passages to read each day so that after 365 days you would have read the entire Bible.
Another guy said he used a John Piper devotional. His process was to read the devotional and then investigate the Scripture passage from the devotional more on his own. One man said he was just reading through the Gospel of John. Simple, easy, and very doable. Just start with one book of the Bible and read a portion of it each day.
I think it's harder to just pick up my Bible in the morning and read a random passage. It's just not as inviting as having a passage to look forward to reading. We also miss the context of a passage when we are randomly reading different verses here and there each day. Not to mention that much of the Bible is narrative, meaning its full of stories. You wouldn't just pick up a novel and start reading on page 203 before reading the first 200 pages. Now, I know that Bible is not written in chronological form but the stories within the Bible are, so it's really helpful to read the stories from beginning to end.
3. Create a Rhythm in Your Life of Reading the Bible
As I listened to each man describe his own journey in reading the Bible on a consistent basis, what I heard was that it became a rhythm for them in their day. The daily intake of the Scriptures seemed just as important as their daily intake of food. And just like eating food is enjoyable, these men found that reading their Bibles was enjoyable. One man said he just felt better throughout the day when he read his Bible in the morning and when he didn't read then he felt like he missed out on something. You know, if you don't eat your breakfast, your body is affected physically. When we don't read our Bibles, we are affected spiritually. So, the rhythm is important and spiritually healthy.
May I encourage you today with the words from Joshua 1:8?
"This Book of the Law shall not depart from your mouth, but you shall meditate on it day and night, so that you may be careful to do according to all that is written in it. For then you will make your way prosperous, and then you will have good success."
Do whatever it takes to read your Bible every day. After all, the Scriptures will guide you through understanding the gospel and we all know that the gospel changes everything.