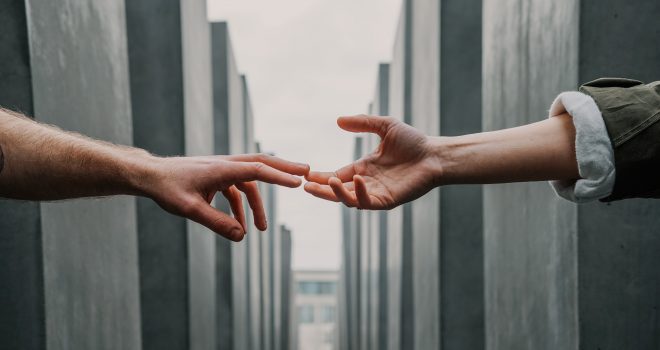 June 18, 2020
60: When You Desire Nearness with Guest Podcaster Molly Fletcher
You know that feeling when you've been hiding under the covers for too long breathing in your own recycled air, starting to get a little worried that no one will find you, and maybe a little scared of the dark too?  Hiding is suffocating. 
We were not created to do this alone. 
I am a student at university studying elementary education. I am learning what it looks like to adjust to change quickly, moving out of my college home filled with nine of my best friends and moving back home with my parents, my sister, and my two-year old nephew. I am learning how to do school online and I am realizing how dependent I am on the interactions with my classmates and professors to maintain motivation and morale to press on in my studies.
We were not created to do this alone.
After a long day of using brain power, I have found it relaxing to do something with my hands which thankfully involves yummy food. Sometimes this means whipping up a quick batch of chocolate chip cookies and other days it means spending a whole afternoon making a cake. I have been socially distancing from everyone, but I still see my friends occasionally and go for walks. My involvement in ministry looks different with small groups and large groups happening over Zoom and not getting to see people I do life with everyday. The air feels thicker (maybe it's the pollen, haha) and the days feel longer. I am constantly reminded that there is hope; not just that this season will end, but that this reveals my longing for another place entirely.
Welcome to my little corner of quarantine.
I am beginning to feel the weight of distant connection. It feels harsh to hold people at arm's length and to have most of my conversations through my computer screen. The strangeness of having all of my meetings from my room is becoming more and more noticeable.
Have you ever realized how much we associate scent with experiences? My classrooms smell like paper and pencils and the opportunity to learn something new. Home group smells like a clean house and freshly made popcorn mixed with the people who have poured into me for the past few years. My best friend's car smells like leather seats and fresh air with hope of having a vulnerable conversation. I miss giving my friends hugs and taking a deep breath in of their aroma and the comfort that comes with knowing I am in their presence. To be in the atmosphere of another human creates intimacy that cannot be replicated through the headache of staring at a screen for too long. This time is difficult and relationships are slowly suffering because of the lack of authentic connection. 
We were not created to do this alone. 
As I have pondered this lack of intimacy, I thought about my relationship with the Lord and how it suffers when I do not invite the nearness of His presence throughout my days. I am quick to hold God in the future. I am quick to push God out of my daily needs. I believe that He will take care of me THEN, but I struggle to believe that He is also taking care of me NOW.
I try to provide for myself and work hard so that I do not have to worry about tomorrow. I trust Him with my future because somehow I know that it is out of my hands, but I struggle to trust Him now because I want to be in control of my life. I cannot bear the weight of the pressure to perform, so I give into the lies that I am worth what I do. I try so hard to keep up a persona of perfection, but I am quietly crushed by the pressure to never mess up. In my own determination to live rightly, I have become grossly aware of my desire for control instead of my desire for God. Do I really want the things He promises me? Or am I too obsessed with the idea of being in control to truly surrender to the love & grace & mercy that He constantly embraces me with?
I have been reminded of Psalm 23 and the truth that God is devoted to being present in my life. The psalm says "He leads me beside still waters." He calms me because He is with me. "He restores my soul." He makes me new because He lives within me. "He leads me in paths of righteousness." He is committed to making me more like Him. I have nothing to fear because He is with me. "You prepare a table before me." He welcomes me into a place of abundance in His home. "Surely goodness and mercy shall follow me all the days of my life." I cannot escape the richness of His love. "I shall dwell in the house of the Lord forever." He promises to be with me forever. 
This has become my prayer as I read those words: 
Lord, you are my shepherd- my strong leader and comforter.
I do not lack anything in your presence.
You make me rest in the abundance of who you are.
You draw me into the stillness and peace of your presence.
You restore me.
You lead me to the Saviour and the righteousness He possesses.
I bring nothing in myself.
Death is near, but I have nothing to fear because in your presence I find everlasting hope and life.
I trust where you are leading me.
You prepare a space for me to come and dwell in the abundance of your presence.
I am lavished with your goodness and mercy that will surround me forever.
My only hope is you- I take hold of the joy of getting to spend forever with you.
In all affection and praise,
Amen. 
Intimacy with God does not depend on anything that I do or how I am feeling today. God faithfully promises me His presence, His guidance, His abundance, His peace, and His glory. This is not about me and my performance, but rather God's devotion to relentlessly show me that He is God and I am not. 
So in this time of suspended stillness, I am learning to surrender. I am learning that my sanctification is a process, not an event. I am learning to repent & rest & return- over and over and over again. This wilderness season is showing me that He constantly woos me into the moment to challenge me to trust Him day by day. Not looking ahead to the uncertainties of the future, but learning to trust Him with each. small. thing. I am beginning to see that if I walk steadily with Him, then I am welcomed into the intimacy of His eternal presence. It is there that I find comfort and peace beyond myself. My greatest joy becomes the presence of my Father and the intimacy that comes with that.  
So take off the suffocating covers that you are hiding under and enter into life-giving communion with the Lord. 
Photo by Toa Heftiba on Unsplash