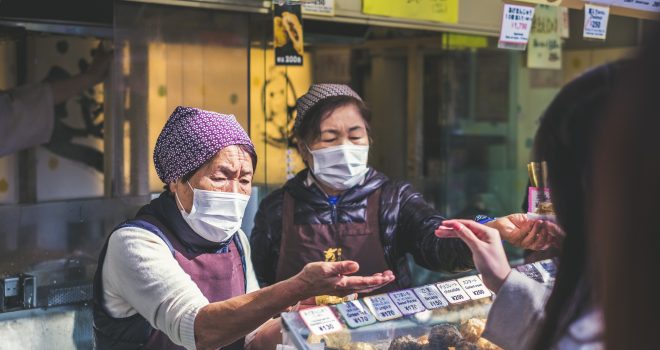 August 14, 2020
61: Feeling Grumpy
I've been grumpy lately. I'm not particularly depressed or anxious but rather frustrated with life right now. It makes sense since we are in the middle of a global pandemic. We have had to drastically reorient ourselves to living in a world where masks are required. I'm so tired of the masks. I have one in my car, one in my pocket, several at my house, one on my desk at work. But somehow I still found myself without a mask when I went to Sam's club the other day. Thankfully, the kind security officer at the entrance gave me one.
But it is not just the masks that make me grumpy, or how unbelievably expensive ground beef is right now. It's not just the external things that are bothering me, but there is something internal that I can't put my finger on. I feel like I'm living in a fog. The kind of fog that settles in over a road you are driving on. You can barely see in front of you. You think you know what is around the corner because you've driven on this road a hundred times before. But there is this uneasy feeling that you might run into something. Nothing seems clear right now.
We are four months into this COVID crisis, and to be honest, I thought we would be done with it by now. The reality is settling in that we probably have another year of uncertainty ahead of us. That thought alone is extremely discouraging and makes me even more grumpy. But I don't want to live with grumpy anymore. He is not very nice and no one really wants to be around him. My family is starting to make that clear to me.
So how do I move out of this funk? How can I shake off the grumpies and get some joy back into my life? Well, as I mentioned before, my external circumstances are probably not going to change, so there must be some heart change that needs to take place.
Since this crisis started I have been saying that I was going to worship my way out. And that did happen for the first two months. But the last two months I've just been eating my way out. My latest cholesterol test showed that was not working. So, it really is back to worshiping my way out of the grumps and into the joy that the Lord wants me, and you to experience.
One of the most famous verses quoted from the Bible is by the apostle Paul who said in Philippians 4:13, "I can do all things through Christ who strengthens me." The context of that verse is really important to understand how it gets applied. The context is that Paul is writing this letter to the Philippians from prison but the key word in the letter is "joy".  Those two word, joy and prison usually don't go together. 
Paul spends the first three chapters explaining how the gospel has spread through difficult circumstances, how the gospel unites us together in unity and makes us lights of the world and how the gospel is able to motivate us to ministry to others. And in chapter 4 Paul reveals his "secret" to being content and joyful even in the midst of the most dire circumstances. Instead of just reading v. 13 let's go back and read verses 10-13.
"I rejoiced in the Lord greatly that now at length you have revived your concern for me. You were indeed concerned for me, but you had no opportunity. Not that I am speaking of being in need, for I have learned in whatever situation I am to be content. I know how to be brought low, and I know how to abound. In any and every circumstance, I have learned the secret of facing plenty and hunger, abundance and need. I can do all things through him who strengthens me."
The secret is being content in Christ and not in our circumstances. How we react to our circumstances, what our attitude is towards the things happening around us are governed by what we are trusting inside of us. If I am trusting my outward circumstances then I am bound and confined to be either joyful or grumpy based on whether those circumstances are good or bad. But, if my trust is in Christ, who lives in me and who has promised to provide, care, comfort and take care of me then that is where my joy will come from. 
Jesus is my joy. This Covid fog is not going to lift for quite some time. But I don't have to wait for it to lift in order to walk away from my grumpiness. Even though I am uncertain what will happen next month or next week or even tomorrow, I am certain that Jesus walks with me today. And I know this because I read my Bible which is all about Jesus, I pray to Jesus, who actually listens, and I worship Jesus for who He is, what He is doing and that I can trust Jesus alone above all things because He alone reigns supreme over all that exists and all that happens.
If you turn on your tv, phone, computer or ipad you will see nothing but bad news and you will be grumpy like me. But if you look to Jesus, who is the good news, if you look to Jesus as the only one who can truly satisfy your soul's deepest longings then you will find joy. This is the gospel and we all know, its the gospel that changes everything!
Photo by Jérémy Stenuit on Unsplash