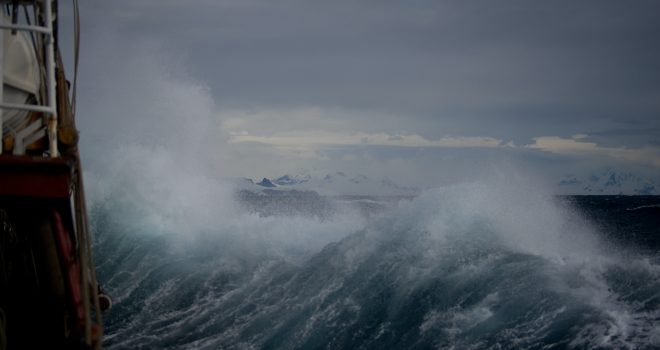 October 23, 2020
64: Why you should be afraid of Jesus
Mark 4:35-41
35 On that day, when evening had come, he said to them, "Let us go across to the other side." 36 And leaving the crowd, they took him with them in the boat, just as he was. And other boats were with him. 37 And a great windstorm arose, and the waves were breaking into the boat, so that the boat was already filling. 38 But he was in the stern, asleep on the cushion. And they woke him and said to him, "Teacher, do you not care that we are perishing?" 39 And he awoke and rebuked the wind and said to the sea, "Peace! Be still!" And the wind ceased, and there was a great calm. 40 He said to them, "Why are you so afraid? Have you still no faith?" 41 And they were filled with great fear and said to one another, "Who then is this, that even the wind and the sea obey him?"
The context of this story is that Jesus had been teaching a crowd of people by the lake in Capernaum, which sits on the northwest side of the Sea of Galilee. I know this because I was there last summer.
But the context also reveals that Jesus had a reason to get into the boat and go to the other side of the lake. Jesus is actually taking the disciples with him to go and heal a man who was in a really bad way. A man who was possessed with a "legion" of demons. Do you remember that story? When Jesus cast out the demons he cast them into a herd of pigs and they rushed down a hill and drown in the sea? 
So this story sits in between his teaching and his healing. And while I think the main point to this particular story of Jesus calming the storm is to show that Jesus has power over creation, there is a secondary meaning and that is Jesus will not be deterred from carrying out his mission to save this poor demon-possessed man.
The text says, "when evening had come…" Jesus wants to go to the other side of the lake. So it is getting dark and will be night-time soon. The distance from Capernaum to the place Jesus wants to go is about 4 miles. That is the same distance from one end of the Reservoir to the other. And remember, they do not have a motor, only sails and oars. I have a sailboat at the other end of the lake and 4 miles is pretty far. Depending on the wind and which direction it is blowing, it could take a few hours to get where they are going.
The place where they are going is called the Decapolis, which means ten cities and it is a  region on the eastern side of the Sea of Galilee. And it is a very pagan region. The gospels tell us that Jesus only visited this area twice.
Now, there are two key phrases that stick out in this story. 
The first is when Jesus says to the wind and the waves, "Peace, be still!" or "Hush, be still!"
When he says these words the wind and the waves actually obey him. The wind ceased and there was a great calm. This reveals that Jesus has power and control over nature. Just as he spoke creation into existence, he can now control creation by speaking to it.
This is astounding. There is literally no one else who can do this. It becomes very clear, very quickly that Jesus is more than just a good teacher.
The second phrase comes after Jesus calms the storm and the disciples, who were filled with great fear, exclaim, "Who then is this, that even the wind and the sea obey him?"
At first, the disciples were afraid of the storm, but now they are afraid of Jesus.
What do you think you would have done or thought if you were in the boat with Jesus?
I want to get across two points this morning.
This Jesus whom you follow and worship, or whom you are considering, controls nature. For real. There is no one greater than Jesus. No one ever has been and no one ever will be. I want you to decide what that means for you.

If you are going to be afraid of anything you should be afraid of Jesus.
And you decide if it will be fear…as in awe, wonder and worship or something else.
As you look at Jesus, whom we claim to be the Son of God, who was born of a virgin, lived a perfect life, without sin, died on a cross and bodily rose from the grave and now sits at God's right hand to rule supremely over all creation, here on earth and across the universe…If you believe this to be true then what will you do with Jesus? How is your life going to be different?
Is it going to stay the same or will it change? If you believe the gospel to be true then it will change, because we all know, it's the gospel that changes everything!
Photo by Torsten Dederichs on Unsplash