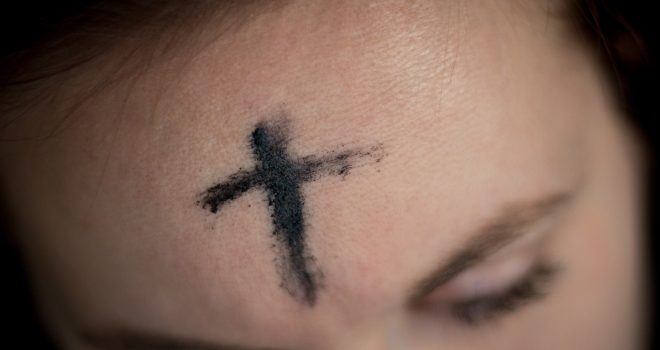 March 8, 2022
73: What is Lent?
Have you ever wondered what Lent is? Or Ash Wednesday or why some people deny themselves of certain things for 40 days before Easter?  Lent is the season of 40 days leading up to the celebration of the passion and the resurrection of Christ.  
"The first Christians observed with great devotion the days of our Lord's passion and resurrection, and it became the custom to prepare for them by a season of penitence1 and fasting…The whole congregation was put in mind of the message of pardon and forgiveness set forth in the Gospel of our Savior, and of the need which all Christians continually have to renew their repentance and faith.  The congregation is invited to the observance of a holy Lent, by self-examination and repentance; by prayer, fasting, and self-denial; and by reading and meditating on God's Holy Word.   And, to make a right beginning of repentance, and as a mark of our mortal nature, they are encouraged to kneel before the Lord, their maker, and Redeemer" (adapted from the Book of Common Prayer).
Lent begins on Ash Wednesday.  Some churches will have a special service where the minister will place some "ash" on the forehead of the believer to signify our mortality and penitence and to remember that it is only by the gracious gift of God that we are given everlasting life through Jesus Christ our Savior.
What about the 40 Days? The tradition of observing the season of lent for 40 days is based on Jesus fasting and being tempted in the wilderness for 40 days prior to starting his public ministry. This doesn't mean that we need to try and repeat what Jesus did, it is simply a period of time that we take to examine ourselves, repent of our sins and find forgiveness in the gospel which culminates in the cross and resurrection of Jesus. It is a period of time similar to how we observe the season of advent leading up to the birth of Christ.
Why do people "give up" things or deny themselves of something during Lent? To answer this question I like to use the introduction to Serge Ministries Lent Devotional Study which says,
"In many Christian traditions, Lent is a time of solemnity, of preparation for journeying with Jesus toward the cross. Many Christians think of Lent as a time of fasting – of "giving up" something like chocolate, alcohol, social media, or deeper habits like complaint or gossip. We have all kinds of mixed motives for this – health, weight loss, or becoming nicer people. But for the early church, Lenten fasting was an opportunity – an opportunity to make space in one's own life to both receive God's self-giving love given to us through Jesus' death and to connect one's time, heart and resources with the needs of the world… 
Lenten habits are about so much more than self-improvement; they are about connecting the horizontal and vertical in your life."
What we choose to do during the season of Lent should glorify God and help us focus on the cross and the empty tomb, not on ourselve or our own self improvement. If there is any focus on ourselves, it is the examination of the sin that resides in our hearts, and then a repenting of that sin so we can turn towards Jesus for forgiveness. When we make space in our lives then we have time to actually focus on Christ and to show acts of mercy and love towards others.
Colossians 1:13-14  Jesus has delivered us from the domain of darkness and transferred us to the kingdom of his beloved Son, 14 in whom we have redemption, the forgiveness of sins.
1 Peter 3:18 For Christ also suffered once for sins, the righteous for the unrighteous, that he might bring us to God, being put to death in the flesh but made alive in the Spirit.
So, during this season of lent I would encourage you to:
Spend time in self-examination; confessing your sins and your need for Christ.

Meditate on God's Word

Spend time each day repenting of your sins, turning away from them and turning toward Christ in faith.

Use the attached devotional from Serge to guide you through the Scriptures

Gather some family or friends and go out into your community in order to serve and show acts of mercy to others.
Almighty and everlasting God, you hate nothing you have made and forgive the sins of all who are penitent: Create and make in us new and contrite hearts, that we, worthily lamenting our sins acknowledging our wretchedness, may obtain of you, the God of all mercy, perfect remission, and forgiveness; through Jesus Christ our Lord, who lives and reigns with you and the Holy Spirit, one God, forever and ever. Amen.( from the Book of Common Prayer).
Lent Devotional Study from Serge Ministries
1 penitent simply means deep remorse and sorrow for sin; repentant.