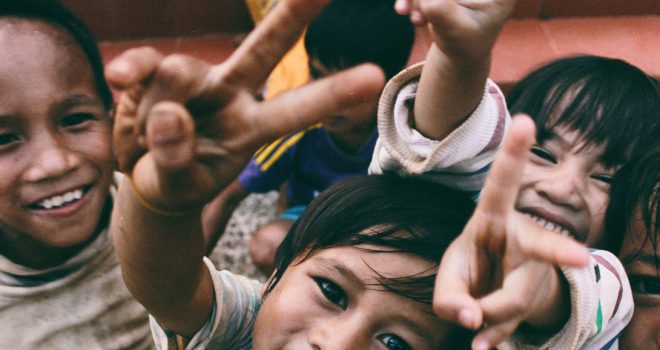 December 11, 2017
05: How to Pray for Your Enemies
I was reminded by a passage in 1 John this morning to pray for my enemies. But the truth is, I don't want to pray for my enemies. They are mean and hateful and persecuting other believers all over the world. Why should I pray for my enemies?
The most straightforward answer is that Jesus commands us to.
You have heard that it was said, 'You shall love your neighbor and hate your enemy.' But I say to you, Love your enemies and pray for those who persecute you, so that you may be sons of your Father who is in heaven. For he makes his sun rise on the evil and on the good, and sends rain on the just and on the unjust. Matthew 5:43-45
Wait, and not just pray for them but love them as well? How in the world should I pray for my enemies? I certainly do not want to pray that the Lord blesses them and their efforts. But I also don't think he wants me to pray for a tragedy to happen in their lives either.
We can pray for our enemies in at least three ways.
Pray that your enemies will see the futility of their belief system and worldview. I'm obviously putting this in the context that you are a believer and follower of Jesus and your enemies are not. They are trapped into believing the deceitful lies of the world or possibly of other religions. Living outside the will of God is nothing short of completely wasting your life.
Pray that the Lord would show them that Jesus is the only way, truth and life. Pray that they would believe in faith that Jesus is the Son of God and has come to give them abundant life. Pray that they will intellectually understand the truths of the gospel and its implications on restoring the world to its originally created order.
Pray that your enemies will be convicted of their own personal sin. Ask the Lord to open their eyes to the sin that resides in their hearts. Pray that they will see how evil their deeds actually are, how hurtful they are to others, and how offensive their sin is against a holy God.
Your enemies are dead in their sins and trespasses, they need to be brought from death to life. Only Jesus life, death and resurrection can accomplish this for them. But first they have to come to the realization that they have rebelled against God. Pray that they will understand the repercussions of their rebellion will include facing the wrath of God and eternal separation from Him.
Pray that your enemies will turn in faith to Jesus. If you want your enemies to stop whatever it is that is making them your enemy then their only hope is to turn away from their current belief system and sinfulness, and turn in faith to Jesus who died for them. This is called repentance. A genuine, heartfelt conviction of sin and plead for God to have mercy on them.
Ask the Lord to give them the gift of faith in Christ. Pray that they will be born again into a new hope. Pray that God will show them a better way of life through Jesus indwelling them through His Holy Spirit.
It's not easy to pray for your enemies. More than likely they have hurt you or someone you love in deep ways. Maybe their actions have caused you emotional pain, or even physical harm.
The gospel tells us that we were once enemies of God, but He loved us enough to send His own Son to die for us.
For if while we were enemies we were reconciled to God by the death of his Son, much more, now that we are reconciled, shall we be saved by his life.
We are happy to believe that this is good news for us. But what about our enemies? Shouldn't we be happy that this is good news for them too? If you truly do not want to have enemies then pray that the Lord will bring them to salvation through Jesus. If you are tired of the persecution of Christians, if you are tired of terrorists blowing up people in the marketplace, if you are tired of racism and evil infiltrating our society, then pray for your enemies. Jesus is their only hope. Because we all know, it's the gospel that changes everything!